Lol biog from the website  
www.6ts.co.uk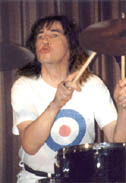 Hi, I'm Lol, short for Laurie, short for Laurence and short for my height!   My musical career began in 1955 when,  aged 8,  I joined St. Peters Church choir, Bexhill, and the following 15 years gave me the best musical upbringing anyone could wish for.  Del Shannon's "Runaway" introduced me to "pop" music in 1961, and from then on I was hooked on the charts.
  I had no thoughts of becoming a drummer until I saw Keith Moon of The Who playing "Anyway, Anyhow, Anywhere" Iive on TV. in 1965 and I thought "I want to be like that!"  Early the following year I bought my first tiny drum kit with £20 borrowed from my parents, and I then learnt my trade in several local groups until being instrumental in forming Hastings rock band FACTORY in 1970.  After several near misses of stardom, we split in 1976 and meeting up with Tel Corder again (we had previously performed together in a band called ROCK MUSEUM in 1969) we formed what was to become the very popular rock band DIE LAUGHING in May, 1977.  Even though we reached the Finals of the national Melody Maker Rock Contest in 1978, and received great reviews wherever we performed, we reluctantly realised that we were not destined to get rich or famous and the band disbanded in December 1984.
At the time, Tel was helping out in a "country" band, and I was asked to join as well – How are the mighty fallen!  It was not easy toning down from breaking an average of 4 drum sticks per hour to what became a total of 3 sticks in 12 years, but I managed without losing too much of my style!  I suggested to Tel that we formed our own 60s band, and thus in 1986 The 6Ts were born.   The "power and the glory" of my heavy rock years may not be there, but, The 6Ts is the most satifying band that I have ever had the privilege to perform with.  Long may we continue to rock!

 The Fabulous 6Ts – Eight Days A Week
Andy Qunta ….The fabulous Lol Cooksey!  Factory was a lot of fun, and a great learning experience, and Lol was a huge part of that! What a drummer, what a showman, what a character! Good pic of Lol there!
Mick O'Dowd… Isn't that that Moonie chappie from The Who?